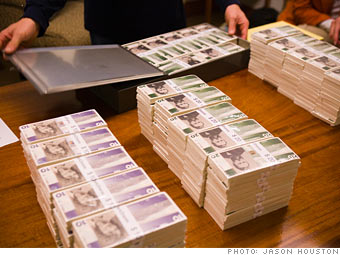 Location: Southern Berkshire, Mass.
Started: 2006
In the small mountain community of Southern Berkshire, Mass., residents can exchange U.S. greenbacks for colorful bills called "BerkShares" and use them at more than 400 local businesses.
BerkShares come in 1-, 5-, 10-, 20- and 50-unit denominations. The exchange rate is 95 U.S. dollars to 100 BerkShares, making them a deal for residents. In order to keep the BerkShares in circulation, merchants that try to exchange the currency for U.S. dollars at the bank get charged a 5% fee.
More than 3 million BerkShares have been issued since the currency launched in 2006. So far, five community banks (about two-thirds of the local banks) have partnered with BerkShares, with 13 branches now accepting and exchanging the currency. That's pretty significant for a region with only about 19,000 people, says Susan Witt, a co-founder of the currency.
And the currency will expand to Northern Berkshire later this year. Witt is also working on a Berkshire-funded loan program that would encourage more local production and replace the need for importing items from outside the community.
"In down economic times, people turn to neighbors and community more," said Witt. "So the current financial situation has raised interest in alternative currencies like ours and is stimulating conversations about whether it's better to shop locally or to shop as cheap as we can wherever we can -- even if there's no value to the community."
Pictured on BerkShares are images of Massachusetts heroes: a Mohican, the original inhabitants of the Berkshire area, writer and civil rights activist W.E.B. Du Bois, agricultural movement leader Robyn Van En, as well as author Herman Melville and painter Norman Rockwell.