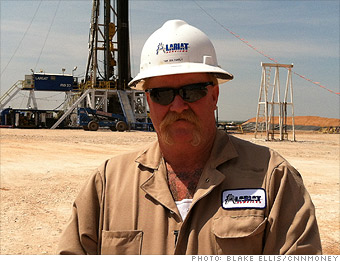 Age: 53
Occupation: Rig manager
First boom: Laneville, Texas
Currently working: Harper, Kan.
I started out September 17, 1979. The money was good, it was a different way of life and I was talented. I guess back in the day you were cut out to be a roughneck [or you weren't].
From Texas, I went to Louisiana and I went to Singapore for a year. Then I went back to Louisiana and was there for a while, then to Oklahoma, and back to East Texas.
It's just a passion of mine. It's what I love to do.
But it's got its good things and it's got its bad. You can't always find the right woman who wants to travel a hundred or three or four hundred miles away. And if you're gone two weeks out of the month, you miss a lot of your kids' programs, you miss a lot of their events. But it's the way of life I chose -- and it has clothed my kids and fed my family through the years. Fortunately, I'm married to a woman now who understands that way of life. We got married on a Saturday, and Sunday I rolled out to East Texas to work.
The kind of guys that I broke out with are a dying breed. It's not a bad thing -- this generation has got its good qualities, safety especially. Back then, they wanted nothing to do with it. I've had my legs crushed, I've got steel in both ankles, had my back broke, both hands broke -- all my fingers have been broke, and I never missed a day of work.
Yeah, the pay is good, but there's a lot of pain and misery that goes with that pay sometimes, too -- when it's so cold you can't move your hands, when your feet hurt so bad you can't stand on them, you got cold rain dripping down the back of your neck and you've still gotta keep gettin' it -- it's 20 below zero and you still gotta keep pumping it. Not just anybody is cut out for that kind of work.
You adjust eventually, or quit. And I don't have no quit in me. They'll have to put a cross up there [on the rig] or run me out, one of the two.