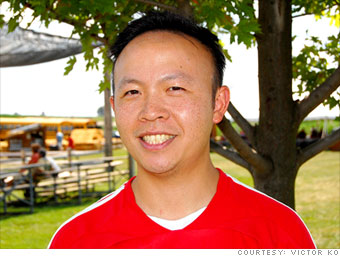 Name: Victor Ko, 35
Home town: Philadelphia
Occupation: Hospital physician
Net worth: $500,000
Victor Ko isn't as wealthy as Warren Buffett (yet), but he shares one trait in common with the billionaire investor: He's content to live in a much smaller home than he can afford.
Married, with four children under the age of 9, Ko lives in the same 1,700-square-foot, three-bedroom house he and his wife bought when he was a resident in his twenties, even as his earnings have risen substantially.
Ko and his wife, Eileen, are frugal in other ways too: They invest in low-cost index funds, buy groceries in bulk, clip coupons, skip cable, and drive cars with more than 100,000 miles.
"We live well below our means, but we still live well," says Ko.
He also supplements his salary -- and his savings -- with a part-time job at a second hospital. Result: Ko currently saves 40% to 50% of his income.
Test your millionaire smarts