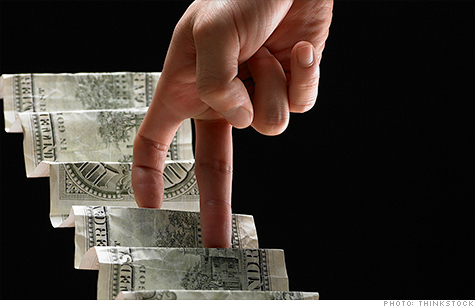 Secure one big promotion that gives you real authority and you could be on your way to becoming a millionaire.
(MONEY Magazine) -- The path to becoming a millionaire shortens with every major step you take up the corporate hierarchy. Jump from a human resources administrator to manager, for instance, and you become eligible for greater supplemental income like bonuses and stock options.
Take another big leap up to HR director, and your overall compensation really swells -- by more than 40%. The good news: You don't have to make it all the way to the C-suite to see real benefits.
Part of a special report on How to reach $1 million this story explains how moving up the corporate ladder can put you on your way to the millionaire class.
KEY MOVE: Secure one more big promotion that gives you real authority.
HOW TO GET THERE
Start by managing others' careers, not just your own. In virtually every job, workers who have people reporting to them earn more than individual contributors.
Over the course of a 40-year career, the median lifetime pay for those who supervise one or more workers amounts to nearly $1 million more than for non-managers.
Even people with the same title will earn more if they're in charge of others. A software developer with three direct reports earns a median salary of $74,000, vs. $66,000 for developers who oversee no one, notes Katie Bardaro of salary research site PayScale.com.
Don't be a company man or woman. Even if you're earning promotions, staying with the same firm for many years can still lead to salary stagnation, says Bonnie Sharps, executive vice president at executive search firm DHR.
Pay hikes tied to promotions range from 5% to 7%. External hires, however, earn nearly 20% more than workers advanced from within, according to Wharton professor Matthew Bidwell.
Go to far lengths to get that promotion and the reward can be even bigger.
Just ask Matt Payne. After grad school, Payne worked for an energy company in California. But with the high cost of living there and $25,000 in student loans, he was having a hard time making ends meet, let alone getting ahead. Then he heard about a more lucrative position at an oil firm.
The catch: The job was in Qatar. "I knew the higher salary that came with a job abroad would allow me to pay off my loans faster and give me a leg up on savings." He got the job and doubled his pay.
Recruit powerful mentors. How do you start reaching for that next rung?
Get to know people who can offer you valuable career advice and recommend you for openings in their sphere of influence. "The most successful people I know have had multiple mentors and coaches throughout their career," says Ford Myers, a career coach and the author of "Get the Job You Want, Even When No One Is Hiring."
Dainon Haggard, a 31-year-old vice president of sales and business development for an entertainment promotions company in Salt Lake City, has taken this to heart.
Shortly after being hired at his firm, he reached out to an executive VP and asked her to mentor him. "I told her that I admire her success and felt I could learn a lot from her," says Haggard. "When I asked if I could bounce ideas off of her, she was more than happy to talk with me."
Now, he periodically invites her to join him on his sales calls so she can critique him. Haggard hasn't stopped there. He networks at industry events and now counts a CEO and a venture capitalist among his network of mentors.
GETTING INTO GEAR
Don't wait for your company to train you. Take classes on your own, attend industry seminars, and earn certifications that are in demand in your field to expand your skill set and stand out.
Be an expert, not an employee. Write papers, give speeches, get involved with leadership positions with professional organizations and associations within your field. It'll raise your profile and expand your network.
Know your going rate. When it's time to negotiate salaries and raises, use compensation sites like PayScale, GlassDoor.com, and Vault.com to figure out what pay range is appropriate for what you do. Then negotiate for the upper end of the range.
TAKING A BIG LEAP
Because incremental moves won't make a huge difference, focus on climbing an entire level in your company's hierarchy.
Median lifetime pay for "manager" title
Manager with one to nine employees: $2.5 million
Manager with 10-plus employees: $2.6 million
Lifetime pay for "managers" and higher-ups
HR manager: $2.3 million
HR director: $2.9 million
HR vice president: $3.9 million
NOTES: Lifetime pay is based on a 35-year career. Managers with 10-plus employees are assumed to have overseen one to nine workers for the first 10 years, then 10 or more thereafter. SOURCE: PayScale.com