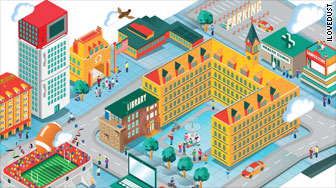 So you've managed to get a grip on tuition and housing costs. Good work, but you're not done yet.
You're about to be hit up for dozens of non-academic costs -- from frat dues and dorm furnishings to laundry services and late-night eats -- that can easily add up to thousands more dollars per year.
"There are just so many ways for a kid to spend money on a college campus without even being aware of it," says Rod Bugarin, a financial aid consultant and a former financial aid officer at Brown and Columbia universities.
How much will that college really cost?
To ward off sticker shock, MONEY tallied the tab for the most common extras at universities around the country. Then we interviewed dozens of experts to garner tips to help you keep those unexpected costs under control.
By Kim Clark, Beth Braverman and Zain Ejiofor
@Money
- Last updated March 29 2012: 9:23 AM ET