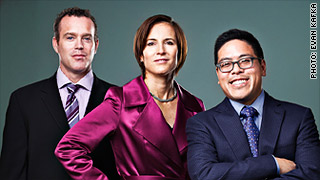 Manager tenure: 3 to 10 years
Fund type: Foreign large value
Expenses: 1.22%
Their picks
Deutsche Post:
"This German company -- which has a 6% dividend yield -- is the No. 1 express-delivery firm in Asia Pacific," says Durkin. "Logistics supply chains aren't as developed there, and companies will pay to have goods in place next day."
SAP:
"SAP's software is best in class or close to it, and has limited competition," says Doyle. "The company has a high recurring revenue, which has allowed it to thrive despite the present economic uncertainty."
Novartis:
"Like U.S. pharmaceuticals, it has spectacular cash flow and a strong dividend yield," says Doyle. "But it's more diversified [Novartis also makes consumer health products] and is increasing exposure to emerging markets."
Secret of success
Causeway International's six managers -- Ketterer, Durkin, and Eng, along with Jamie Doyle, Harry Hartford, and Conor Muldoon -- separately come up with their picks for bargain-priced foreign stocks in the developed world. After they each calculate the expected two-year total return for their choices, they call in their quantitative colleagues to offer input on risk. "Then we rank our stocks on risk-adjusted return potential and concentrate on those that do best," says Ketterer.
That system encouraged the team to trim back stocks that had appreciated significantly before the 2008 tumble, then steered them in 2009 to industrial materials and luxury retailers, which tend to rebound when the economy does.
Where they see opportunity
The managers normally concentrate on Europe -- 70% of the fund's assets are based there -- and are undeterred by the debt crisis in the eurozone. Eng explains, "While growth there is going to be tepid, European companies have less debt on average and are excellent allocators of capital."
Many of the 61 businesses the fund owns generate significant revenue in emerging economies anyway. "We're looking for long-term earnings growth, and that is not coming from Spain!" says Ketterer, with a laugh. Transportation and pharmaceuticals are two categories benefiting from globalization and also selling at a discount, she says.