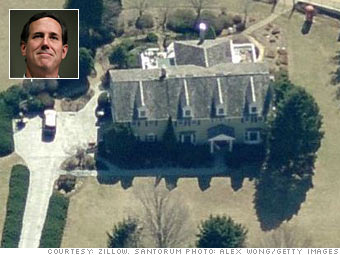 Location: Great Falls, Va.
Estimated value: $1.3 million
The former Pennsylvania senator lives in Great Falls, Va., just 30 minutes outside of D.C. Santorum bought this 4,900-square-foot split-level home in August, 2007 for $2 million, according to public records. The home includes 4 bedrooms, 5 bathrooms, a cobbled drive and a heated pool on 5 acres.
Despite the large size of the property, Zillow currently values the home at $1.3 million, 35% below the purchase price.