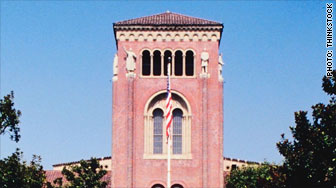 Looking to be a landlord? Buying property in college towns typically translates into stable rental returns, no matter how the economy is faring.
Not only do colleges provide a steady source of jobs for the local economy, but enrollments have swelled as the unemployed go back to school seeking new job skills.
Along with increased demand, rents have risen, too, by about 5% over the past 12 months, according to real estate website Trulia. And you can expect them to keep climbing. Steve Berkowitz, CEO of Realtor.com projects rents will rise by another 5% in the upcoming year.
Even developers who have cut back on other housing projects, are building in college towns. Erik Nelson, who handles construction loans for the Portland-based Bank of the West, said he arranged financing for residential housing projects in five college towns last year.
"The closer to the campus, the better," he said.
For buyers, there are plenty of bargains out there. According to Coldwell Banker's College Home Listing Report for 2011, the average three-bedroom, two-bath home sold for less than $200,000 in nearly two-thirds of the college markets it surveyed and less than $150,000 in nearly a quarter of the towns.
Here are some investors who have profited from being college-area landlords and are looking to buy more -- while the deals last.