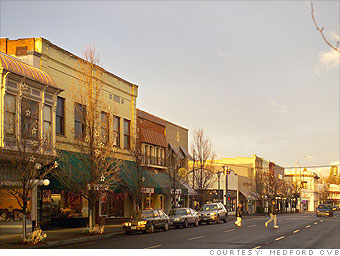 Median home price: $144,000
Drop since market peak: 37.1%
Forecast gain through 2013: 20.1%
A hot spot among retirees, this small city located just north of the California border is staging a comeback.
"We now have the lowest [housing] inventory in six years and the strongest buyer traffic in seven years," said Colin Mullane, a real estate broker at Full Circle Real Estate in Medford.
Homes are selling at a quicker pace and at higher prices than they did over the past several years, according to the local multiple listing service. Another promising sign: more distressed properties are being sold in short sales rather than going into foreclosure.
One factor could hinder the housing market recovery, however: unemployment. In March, unemployment stood at 11.7%, well above the national average.
But a steady influx of retirees should help. According to Mullane, many seniors are drawn to the area for its mild Mediterranean-like climate, excellent medical facilities and reasonable cost of living.