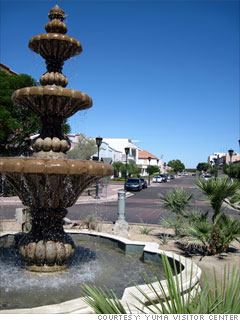 Median home price: $105,000
Drop since market peak: 37.4%
Forecast gain through 2013: 16.7%
Yuma can thank its location for helping it recover from the housing meltdown. The Arizona town sits in a Foreign Trade Zone, where products and materials can be moved between Yuma and Mexico duty-free.
And the nearly constant sunshine also makes it a center for renewable energy development, with companies like First Solar and Abengoa Solar hiring hundreds of workers, according to Julie Engel, director of the Yuma Economic Development Corporation.
Agriculture is another major industry here, especially due to the long growing season.
All that is helping, but the economy is still struggling. The area has one of the nation's highest unemployment rates, nearly 24% in March. And median household income of just over $45,000.
A structural problem for the economy is that it's seasonal with agricultural workers often facing months of idle time, according to Moody's Analytics. The workforce also tends to be poorly educated with only 15.9% holding a bachelor's degree or higher, according to the Census Bureau.
Yet, home prices are so cheap that the vast majority of families earning the area's median income can afford a home, according to the National Association of Home Builders.