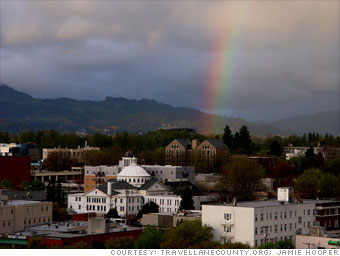 Median home price: $166,000
Drop since market peak: 21.2%
Forecast gain through 2013: 12.4%
Like Corvallis, Eugene's comeback is partly being fueled by the fact that it hosts a big university.
The University of Oregon brings a steady supply of students, many of whom stay in the area post-graduation.
However, earnings here are not very high. Household income in the Eugene area is about $53,000, about $13,000 below the national median.
Still, homes are selling -- just not at the high-end of the market, said John Hoops, a former president of the Oregon Association of Realtors and a broker with Windermere Real Estate.
"On inventory under $200,000 we're seeing multiple offers," said Hoops. Sales of properties near the university are especially strong with some of the demand coming from investors who rent out properties to students.