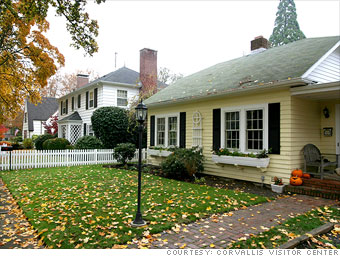 Median home price: $224,000
Drop since market peak: 11.4%
Forecast gain through 2013: 13.2%
The economic fortunes of the Corvallis area are closely tied to Oregon State University, which not only hires a lot of workers but has also spawned a handful of local businesses.
Recently, the local economy has been on an upswing. The unemployment rate has fallen by nearly one percentage point in the past year to 6.1%. And enrollments at the university climbed by 8% and 5% over 2010 and 2011, respectively, boosting demand for rental units.
That has created an opportunity for real estate investors, who are buying up homes priced below the median level and renting them out to college students, said Jimmy Yang, an associate professor of finance at Oregon State
Supply is limited though, according to Stuart Conser of Conser Realty. Smart growth initiatives aimed at preserving open spaces put limits on development in certain parts of town. With fewer new homes being built, it should put upward pressure on pricing.