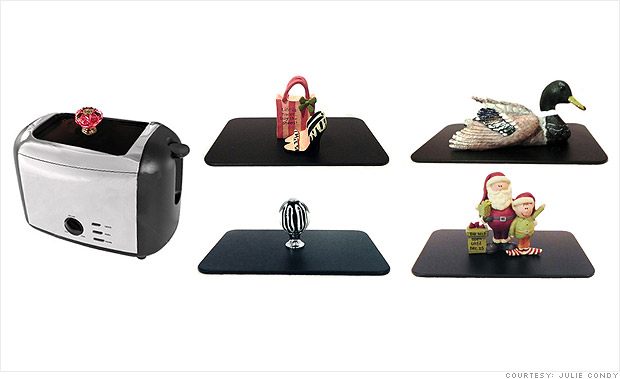 Company: Toaster Tops
Price: $9.95 to $19.95
Julie Condy was grossed out when her husband sprayed the kitchen counter with ant spray and got too close to her toaster.
"I was putting bread in the toaster shortly after and thought it was disgusting if some of the spray had gotten into it," she said. So she jumped online to look for a cover for the toaster slots. But she couldn't find one.
Last July, she started working on Toaster Tops, decorative plate covers for two-and-four-slot toasters that feature fun knobs on top. "They keep the toaster clean and decorate the kitchen at the same time," she said. The knobs are interchangeable, featuring cheeky themes, such as "Cocktail ladies and shopping" and other life events, such as weddings and graduation. Condy's been selling her Toaster Tops online since January. "I'm trying to see if I can make some for college and pro teams now," she said.