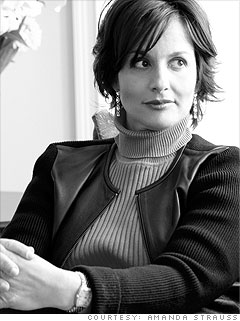 Owner(s): Amanda Strauss
Location: Hartford, Conn.
While most entrepreneurs would kill for just one celebrity client, Amanda Strauss has built her entire business servicing them.
In 1984, Strauss was a budding interior designer trying to build a clientele. She did such a great job after landing her first customer, a high-powered New York accountant, that he referred her to one of his clients. That client just happened to be a superstar NBA player in Chicago.
The referrals kept rolling in, and the rest is, well, history. To date, she has worked with hundreds of athletes across each of the major sports, including David Wright of the Mets, John Lackey of the Red Sox and A.J. Pierzynski of the White Sox.
"We are the only design firm in the country working exclusively with players, and we have a trust level that's been built over the years," said Strauss. "The guys don't have to worry about camera phones or leaked sex tapes with us."
Amanda Strauss Designs has grown an average of 22% every year since Strauss started, and she recently added concierge services and house hunting to her offerings. To keep up with the bustling business, she employs 10 full-time staffers, though it can swell to 40 if things get really busy.