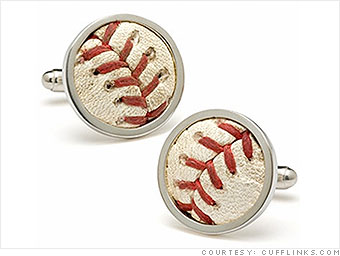 Owner(s): Ravi Ratan
Location: Dallas
Ravi Ratan purchased the domain name Cufflinks.com as an offshoot of his family's third-generation menswear company and with plans to eventually start a business.
Even before the site was developed, Ratan immediately started receiving e-mails from people looking for cufflinks online. To capitalize on the interest, he took photos of the inventory in one of his family's retail stores and posted them online. Everything sold out in one day.
Ratan officially started Cufflinks, Inc. in 1999. And in addition to standard offerings, he decided to sell sports-themed accessories as a way for men to subtly show allegiance to teams in the NFL NBA, NHL and NCAA.
One of Cufflink.com's most popular items is a set of cufflinks that have small pieces of MLB game-used baseballs attached. When customers purchase cufflinks made from those balls, they can visit MLB.com to learn the history.
Ratan sells about 20% of his Major League Baseball-licensed products on or around opening day. The company is expected to rake in $10 million this year, up from $3 million just three years ago.