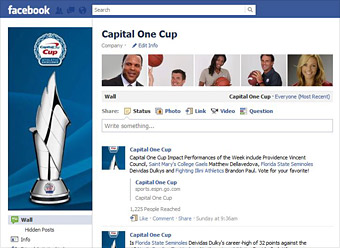 Best Companies rank: 98
Social media used: Twitter, LinkedIn, Facebook, YouTube, Foursquare, social games

Capital One navigates the regulations of social media for large financial institutions by maintaining carefully curated public offerings. Specially trained customer service representatives manage the @AskCapitalOne Twitter account, while Facebook pages such as one for recruiting at student campuses have their own trained staff. Internally, associates can interface in groups connected by topics from Autism to environmental policy. The company uses Wikis extensively for sharing project information. Associates have the chance to exchange ideas directly with leadership through blog comments and posts.

Externally, Capital One has embraced social media's possibilities for self-promotion. Its publicity of the Capital One Cup (a contest crowning one male and one female collegiate athletics program as the best of the year) has ranged from video content of Justin Timberlake on YouTube to a Mascot Football Challenge for iPhones and iPads. The company uses Foursquare for check-ins involving the Cup, as well as the NCAA national championships. Capital One has also tried to get its name out in the socialgaming space: FarmVille players on Facebook may have come across Capital One branded content in the popular Zynga social game.