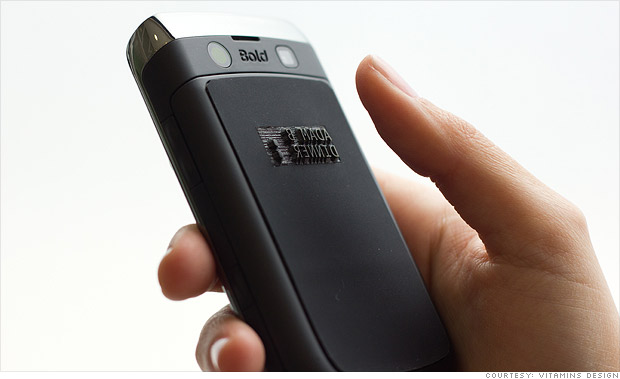 We've become so tied to our gadgets that a mere hour without them can make us stressed and worried that we're missing something important. A London-based industrial designer wants to change that with text messages imprinted into the skin. Seriously.
Clara Gaggero, who heads Vitamins Design, received a call from BlackBerry maker Research in Motion in late 2009. The company asked her firm to "to help solve the problem of mobile phones becoming intrusive," she says.
So Gaggero spent almost a year developing SkinDisplay. It uses piezoelectric technology -- a technique through which an electrical current can stiffen material -- to display raised-up letters on the back of a phone (think Braille). The raised-up message includes the caller's name, a short reason for their call, and one to three dots to indicate urgency.
Receivers merely press a thumb on the raised message, and it's imprinted into their skin -- easy to check on the sly.
"If you're in a meeting and you hear your phone ring, you immediately get stressed out because you can't answer it. Is it an emergency? Is something wrong with the kids? We wanted to give the phone a chance to be discreet," Gaggero says.
She and her team spent two months shadowing 15 people to document their mobile phone behavior. This included tracking a couple on a romantic dinner, a technophobe math teacher and a teenager who sent about 100 texts a day.
"We wanted it to fit in with real-life interactions," Gaggero says.
After several months, she finally presented the work to RIM in late 2010; the BlackBerry maker, in turn, filed to patent the technology a few months later. Gaggero says she doesn't know what RIM will do with the technology, and the company declined to comment for this piece. Here's hoping it won't become vaporware! -Julianne Pepitone