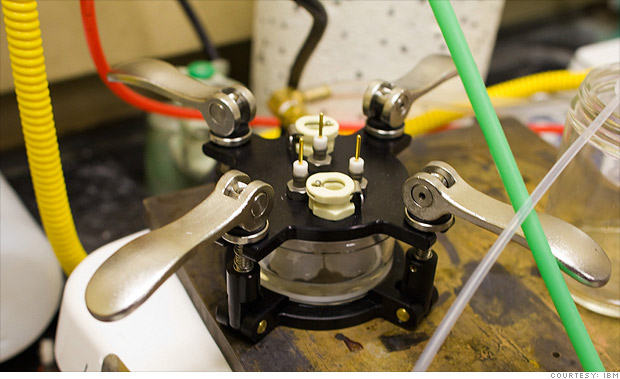 The batteries that power electric and electric-gasoline hybrid vehicles today are no different than the lithium-ion batteries that run your laptop. Electric car makers essentially just load bunches of laptop batteries into the vehicles and wire them together.
The result is a bunch of extremely heavy cars that don't get decent mileage on a single charge -- affordably, anyway. The much-anticipated Tesla Model S will be an all-electric car that gets 300 miles per charge, but it'll set you back at least $70,000.
That's why IBM is working on a next-generation battery technology called lithium-air. IBM thinks it can produce an electric vehicle battery capable of powering a car for 500 miles on one charge.
Lithium-air batteries generate a current from the reaction of oxygen and lithium ions. The theoretical battery would be much denser, increasing the amount of energy it can store, and significantly lighter than current options.
IBM, which is collaborating with several national laboratories across the country on the project, calls the program "very high-risk." But if everything goes to plan, it expects to have a working prototype next year and a lithium-air battery in a car as soon as 2020. -David Goldman