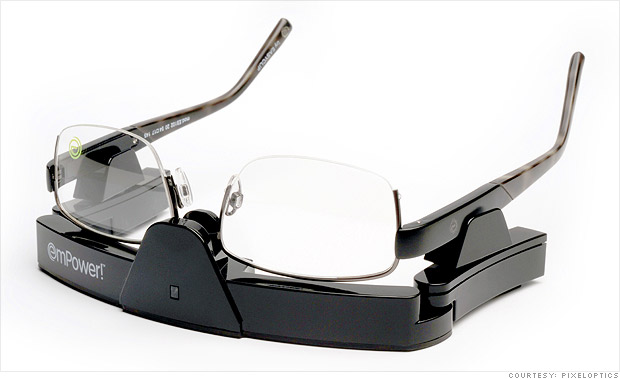 Reading glasses don't exactly evoke images of "cool new tech," but Virginia-based PixelOptics has developed a futuristic pair called emPower. It's a line of electronic eyeglasses that let wearers toggle instantly between two prescriptions: close-up and distance vision.
Wearers can program the lenses to react in response to two triggers: a downward tilt of the head or a fingertip pressed to the temple of the eyeglasses' frames.
The lenses, made by Panasonic, feature a thin layer of liquid crystal sandwiched between two layers of plastic. When an electrical charge hits the liquid crystal, the molecules realign, altering the prescription instantly.
PixelOptics released the emPower glasses, which retail for about $1,000 to $1,250, for the first time last summer to a handful of retailers in the southeast. In January, the company expanded that limited release to a small number of providers across the nation.
Still, a company rep notes, it's not like you can walk into just any optician and ask for emPower....yet. PixelOptics says it plans to expand its footprint in the coming years. -Julianne Pepitone