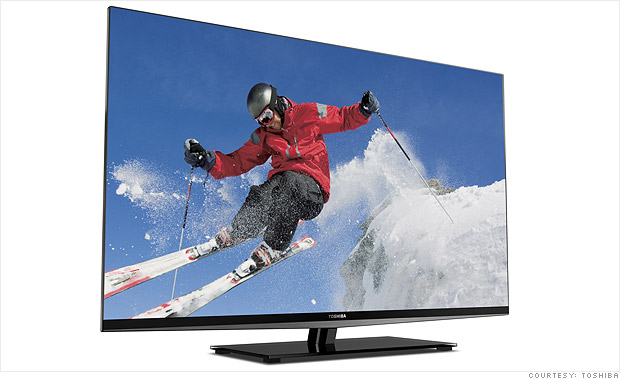 Right now, the 3D experience at home looks a lot like it does at the movies, complete with clunky glasses. Toshiba wants to change that. It's developing a 4K/2K set -- that is, four times the resolution of 1080p HDTVs -- that beams content in 3D to the naked eye.
The as-yet-unnamed TV uses a built-in camera and facial recognition software that locks onto an individual viewer's eyes and follows them as they move. Up to nine people can watch at once. It's the same technology Toshiba used in its glasses-free 3D laptop, which came out last year.
The set went on sale in Japan and Germany last year for about $10,000 (USD). But if you're in the U.S., don't throw away those 3D glasses quite yet.
At the 2011 Consumer Electronics Show, Toshiba said the TV would be released in America later that year. At the 2012 show in January, the company showed off an improved version and said we'd see it this year. But a mere month later, a Toshiba rep says U.S. customers shouldn't expect the TV until the first quarter of next year.
"It's always a moving target," the rep says. "The specs are still being worked out. It's not exactly a prototype, but it's at the phase where things can still be improved." -Julianne Pepitone