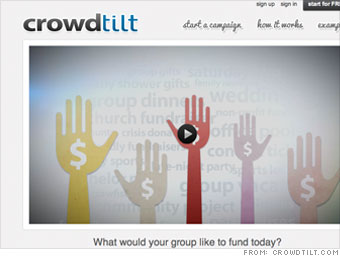 Crowdtilt is one of the buzziest companies to emerge from the latest crop of startups at incubator Y Combinator. The brand-new Crowdtilt focuses on "groupfunding": private projects among people who already know each other. Friends can raise money for a common goal, like a week at a beach house, a wedding gift or a community gardens.
Crowdtilt founder James Beshara says he's not sure if the company will expand to offering equity. But the JOBS Act could help him score big bucks anyway: In a few weeks, Crowdtilt plans to begin licensing its API -- which means that other crowdfunding sites won't have to worry about the technical details of building the back-end.
"Crowdfunding is part social and part billing system, two really difficult things to build out," Beshara says. "When we built our site we thought, man, this is going to be such an undertaking for everyone. Why not let others build on the shoulders of what we've already created? No need to reinvent the wheel."
Beshara says the API release has been in the works since he created Crowdtilt, and it's a "nice coincidence" that the product timeline matches up with the JOBS Act signing.
"I think that's the equation for all big successes: Things out of their control tend to work in their favor," Beshara says. "We couldn't have planned the timing, but it worked out very well for us."