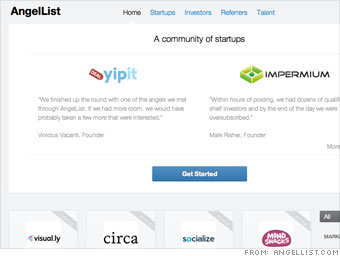 AngelList is true to its name: it connects startups with a roster of high-profile investors and entrepreneurs.
Startups seeking funding visit Angel.co and browse through a long list of techy types (currently almost 110,000 people), including LinkedIn co-founder Reid Hoffman and venture capitalist Fred Wilson. Seekers can cull the list by selecting roles like "seed fund" or "VC" and check out investors' profiles, including what they've invested in, and what they're looking for. In turn, investors can check out what their counterparts are backing.
No money or equity actually trades hands on AngelList -- that would be illegal under current regulations. It's simply a service to connect the players.
Silicon Valley has taken notice. Dave McClure of 500 Startups' calls AngelList "the single most important innovation in venture capital in the past five years." On the flip side, Bryce Roberts of O'Reilly AlphaTech Ventures quit the site, saying he was turned off by the pack mentality and focus on hype.
AngelList seems the player best positioned for the JOBS Act -- it's already sitting right at Silicon Valley's networking nexus. Will it take the plunge and add in a funding platform? Stay tuned. The company didn't return a request for comment, but many in the startup field expect it to dive in.