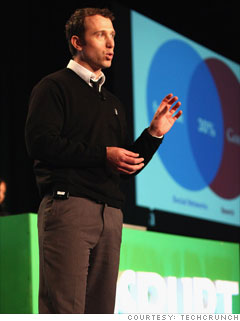 Headquarters: San Francisco
Launched: March 2012
Mission: Create a people-based search engine
"What would Google and Facebook build if they weren't at war with each other?" Ark co-founder Patrick Riley asked TechCrunch Disrupt's audience.
His answer: A search engine that's been redesigned for people.
Ark, which recently launched from tech incubator Y Combinator, aims to be a neutral search engine that combs through Facebook, Google, Twitter, and LinkedIn to track down people. Users can seek people out based on a variety of data points, including where they live, who they work for, where they went to college and what languages they speak.
Riley says this kind of search engine makes it easier to track down business contacts, find friends in certain areas and figure out upcoming birthdays. The founder refers to Ark.com as "a search engine for your social life," one that can sift through users' messages, status updates, and friends to create "a meta layer" across you social networks.
Around 234,000 people have signed up for Ark.com so far -- and the power players are taking note. Riley says he turned down an acquisition offer from Facebook. In his view, the increasingly competitive social Web space needs a neutral party in the search field.