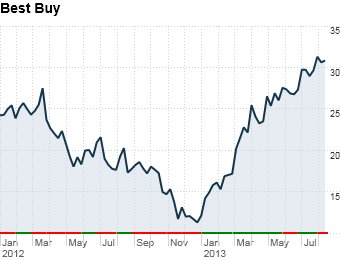 2013 stock performance

: +158%

2012 stock performance

: -49%
Though Best Buy's turnaround plan is still in its early stages, the company's stock is delivering its best performance in more than a decade.
That's a sharp bounce back from its nearly 50% decline in 2012, a year rocked by a corporate scandal and a string of disappointing earnings results, amid increasing competition from Amazon.com (AMZN) and big box stores like Wal-Mart (WMT), and Costco (COST).
Best Buy (BBY) hasn't delivered a quarterly profit in a year, but investors are hopeful that CEO Hubert Joly, who took the helm last fall, will be successful with his "Renew Blue" plan.
Related: Best Buy: Not your standard corporate comeback
One of Joly's priorities is to improve the retailer's online shopping experience. The new CEO is also trying to make better use of the space in Best Buy's large locations by inking partnerships with Samsung and Microsoft to open stores within Best Buy stores.
In the wake of stock's big run this year, analysts are optimistic about the future, with most recommending a "buy" rating on the stock.