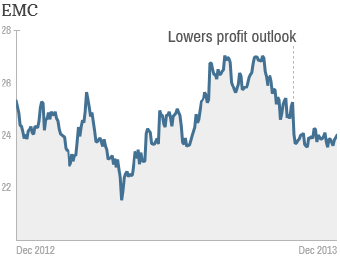 Ticker

: EMC

YTD stock performance

: -4%

Fortune 500 rank

: 133
EMC managed to maintain solid growth in 2013 despite a tough environment for the data storage and IT services market.
The company is expected to report full-year 2013 earnings of $1.80 per share, up about 6% versus last year. Sales are expected to rise 9% for the year.
But that's not good enough for investors who have grown accustomed to higher levels of growth. EMC's third-quarter results in October failed to impress Wall Street. Analysts say data storage technology is rapidly evolving and EMC (EMC) is facing fierce competition from larger rivals such as IBM and HP (HPQ).
EMC generates the bulk of its revenue by selling the hardware companies use to store massive amounts of data. It has been expanding its services and software business, including its VMware (VMW) subsidiary, which provides cloud-based services. Wall Street wants to see even more growth from VMWare. --Ben Rooney