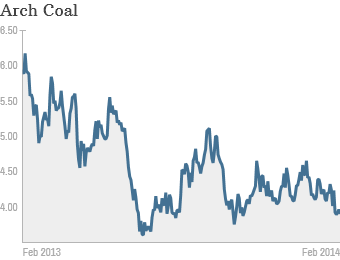 It turns out CNNMoney readers are a fairly faithful bunch.
All but one of the top ten on this year's list of most-searched stock tickers were the same as last year. So instead of looking at the likes of Apple (AAPL), Facebook (FB) and Bank of America (BAC) yet again, we decided to take a look at some of the other popular tickers a little further down the list.
But first, the one new edition to the top ten was a bit surprising: Arch Coal (ACI). It replaced Sprint (S) in the top ten.
Related: Beware the dire predictions about Obama's war on coal
We're not sure what our readers see in Arch, which produces cleaner-burning coal for power plants and steel mills. The company has suffered losses in each of the past six quarters and its stock price is down 36% over the last 12 months. And it's not as if Arch's ticker is similar to other popular stocks.
So who are we to judge? Maybe Arch is a diamond in the rough. As opposed to just a lump of coal.