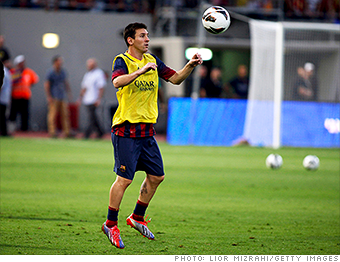 Lionel Messi has scored more than 350 goals as a forward for FC Barcelona, making him the club's top scorer ever.
The 26 year-old Argentine soccer star, who earns roughly $27.5 million a year, is also the best paid player in the world.
On top of that, he has plenty of big endorsements. Messi has a deal with Adidas (ADDDF) worth an estimated $9 million per year. He also has contracts with Turkish Airlines, Pepsi (PEP) and Dolce & Gabbana.