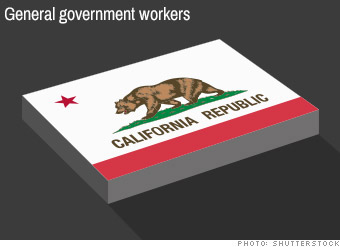 Assets

: $375 billion

Who it serves

: 1.7 million state and local government employees and retirees
Investments: As the overseer of such a huge sum, CalPERS wields a lot of influence in the corporate world, and it knows how to use it. With large stakes in several publicly traded companies, the pension fund operates more like a shrewd activist investor than a conservative money manager.
Each year, CalPERS releases a "Focus List" of 1,000 public companies it owns and believes are underperforming. From there, it aggressively asserts its power by campaigning for change in management, board membership, executive compensation, risk management, or anything else it deems worthy of fixing.
High profile successes in recent years have included the removal of board members at JPMorgan (JPM), Hewlett Packard (HPQ), and Occidental Petroleum (OXY). The resulting corporate change following the fund's actions has been dubbed the "CalPERS effect" on Wall Street.