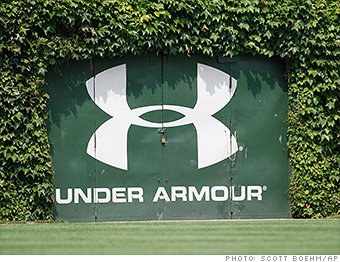 Forward P/E

: 50.7

2014 performance

: +36%
Top professional athletes who rock Under Armour gear command big salaries, and lately, buying the stock of sportswear company also demands a premium price.
Investors like to value stocks based on their projected profits, or forward price-to-earnings ratio.
Based on that common measure, Under Armour (UA) is the fifth-most expensive S&P 500 stock, excluding real-estate investment trusts (REITs) and sub-$10 billion companies.
Related: Under Armour scores invite to S&P 500
Under Armour has had incredible ride. Shares of the Baltimore-based athletic wear company have skyrocketed almost 1,900% since tumbling below $3 in March 2009.
But Wall Street has grown more cautious on Under Armour since its 80% surge last year. Only 39% of analysts who cover the stock have "buy" ratings on it, the lowest percentage among companies in this gallery.
Related: Worried about a bubble? Check out these 'cheap' stocks
And Under Armour is actually trading $2 above Wall Street's average price target of $56.58. That means analysts believe this stock's meteoric rise may take a breather.