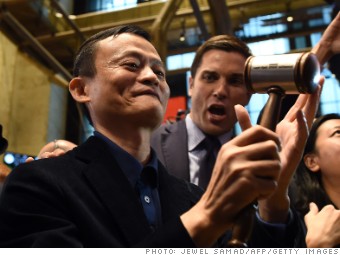 YTD performance

: +70%

Buy ratings

: 88%
Amazon.com gets all the love from American consumers, but Alibaba is the stock that's cashing in lately.
The Chinese e-commerce behemoth raced onto the scene in September with a record-shattering IPO.
The latest quarterly results show Alibaba's (BABA) quest for global e-commerce domination is right on track. It grew annual active buyers by 52% to a whopping 307 million at of the end of September.
And those numbers don't even include Singles Day, China's biggest shopping day that's on Nov. 11. Last year online sales during Singles Day totaled $8 billion -- more than double the combined sales of Black Friday and Cyber Monday.
Alibaba stock has surged about 70% since its IPO, giving it a market valuation of $285 billion. That's more than Amazon.com (AMZN), eBay (EBAY), Twitter (TWTR) and LinkedIn (LNKD) -- combined.
Does the stock still have room to grow?
Alibaba is already trading at analysts' average price target of $116. Either analysts have to ramp up their forecasts or they're saying it's fully valued. Don't bet on the latter. A whopping 88% of analysts covering Alibaba have a bullish rating on the stock.