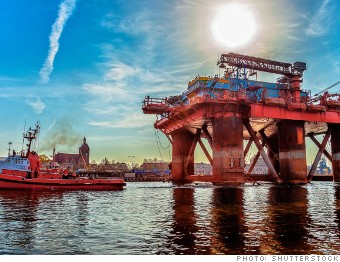 Drilling stocks are drowning -- in a sea of $55 oil.
When oil was trading solidly in triple-digit territory, life was good for drillers. Big Oil companies were willing to shell out big bucks on drilling projects, even in difficult environments like the Arctic and deep in the Gulf of Mexico.
But now that oil has plunged 40% in just months, this corner of the stock market -- more than any other -- is feeling the pain.
As oil companies scale back on capital spending, that translates to diminished revenue for drillers. As a result, these companies are forced to cut dividends, abandon share buyback programs and slash their own spending plans.
Related: Tumbling oil could take thousands of jobs with it
Just look at Transocean (RIG). The stock is down 67% this year, making it the worst performer on the S&P 500. It's trading at levels unseen since 1995 and is the most heavily shorted energy stock in the index, according to Markit.
Transocean isn't alone. Rival drillers Noble (NBL), Ensco (ESV), Nabors Industries (NBR) and Diamond Offshore (DO) are all down by more than a third this year.