Empire Suite, Andaz 5th Avenue, New York City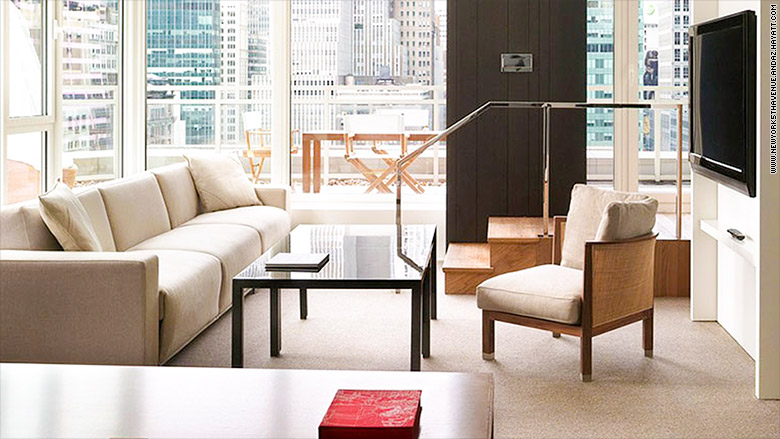 Avg. Rate

: $1,525 per night
For some business travelers, you can't put a price on comfort. Even if that means spending a couple of thousand of dollars for a walk-in shower in a luxury hotel suite.
CNNMoney asked luxury hotel book and concierge service Suiteness for the lowdown on the best hotel suites for business travelers in major cities around the world.
From 360 skyline views to private pools, here are the top picks in Las Vegas, New York, London, and more.
With a wraparound terrace and stunning views of New York City, the Empire Suite at Andaz 5th Avenue is the perfect place to stay for business travelers who want a break from the hustle and bustle of the Big Apple.
For just $1,525 a night, this two-bedroom suite designed by Tony Chi offers everything from walk-in rain showers and foot baths to a complimentary wine hour for all guests.
If you are looking for more than relaxation, the suite also includes a Wilkins sound system with wireless Z2-Bowers speakers to satisfy even the most discerning music lovers.
First published June 26, 2017: 10:00 AM ET
Price per night is approximate in US dollars; prices may vary based on duration and time of visit.

Partner Offers
Paid Partner