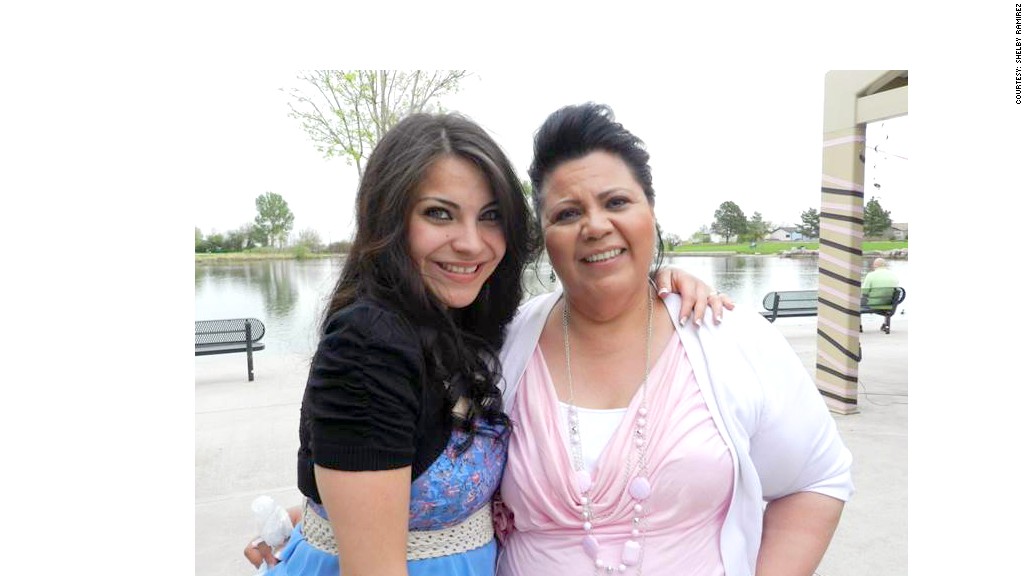 Shelby Ramirez
Age: 50
Hometown: Denver
Over the past five years, Shelby Ramirez's hourly wage as a hotel security guard has risen just 23 cents to $11.65 an hour.
She's taking classes at Colorado Women's College because she knows that a college degree is her only path toward a better-paying job. But working and going to school means that she's out of the house for 17 hours a day several times a week.
Meanwhile, she has two grown children who rely on her financially and she is taking care of her elderly father, who lives with her.
When both her father and her daughter were hospitalized at the same time a couple years ago, she had to take two weeks off from work. And since she isn't allotted any paid vacation days, all of that time off was unpaid.
Money grew tight and she had to figure out how to pay the bills. She received state assistance to pay for utilities and took out a pawnshop loan on a ring her father gave her in order to pay for food and the medical bills. When she couldn't make the payments to get it back in time, the pawnshop sold it.
She also stopped making her rent payments. It took her months to catch up, and it's still a struggle to make her rent each month.
Now the debt collectors call constantly, and to make matters worse, she says she was written up at work for taking so much time off. She is worried that taking any more days off to help her father will put her job at risk.
What's your biggest stress? "Having to take unpaid time off to take care of my family."
What keeps you going? "I pray for strength and love and that my family is protected, and I know someday it will all be good, that my finances will fit together, that my kids will be okay and my dad will be okay."
First published June 24, 2014: 10:55 AM ET
Partner Offers
Paid Partner