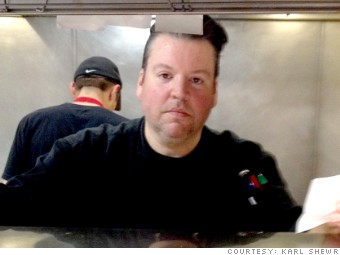 Restaurant managers have to be on top of their game all of the time. They have to make sure the food quality is good, that it reaches customers quickly and that the restaurant runs profitably.
They also have to deal with inspectors: Leave the salami out by the slicer for a few minutes; let a line cook push his glasses back without washing his hands afterward and points come off the score.
For hours, you're barely thinking, just rushing to get things done, says Karl Shewry, who runs the kitchen at Castaways, a steak and seafood restaurant in Fayetteville, Tenn.
"I work about 60 hours in a six-day week, almost all of it on my feet and in constant motion," he said. "Once a week, you ask yourself, why you do it."
Not for the money.
"It's low wage for the workers, as well as the managers," he said. "They pass these jobs out to anyone with half a brain and you have to have half a brain to take one."
Do you have a stressful job that pays badly? Let us know or share it on Twitter at #stressfuljob.