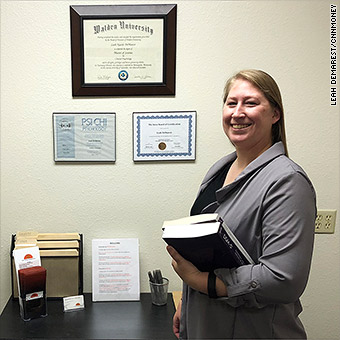 The need for drug counselors is growing along with the opioid crisis. The Bureau of Labor Statistics projects that demand for substance abuse and mental health counselors will increase 20 percent over the next decade.
While drug counselors can change lives, helping highly emotional people and their families -- often after they've hit a low point -- can be draining. Then there's the insurance paperwork and, if a patient's treatment has been ordered by a court, communication with probation officers or lawyers.
Related: Americans keep waiting for bigger paychecks
Leah Demarest, a drug counselor with a private practice in Ames, Iowa, says her typical caseload is about 30 patients at any given time. While she's able to set her own hours when it comes to appointments, she often ends up working more than she expects.
"I tend to keep my phone on for the majority of the day, even when I'm not in my office," she says. "People need help all the time. To give me a quick call or a text message might really help them out. That part is never ending."
Despite the long hours and relatively low pay, Demarest says that there are upsides to her job.
"It touches on the heartstrings to see that you have helped someone," she says. "Sometimes you don't know what happened after they graduate the program, but sometimes I'll get emails from family members saying that they're doing awesome and thanking me."