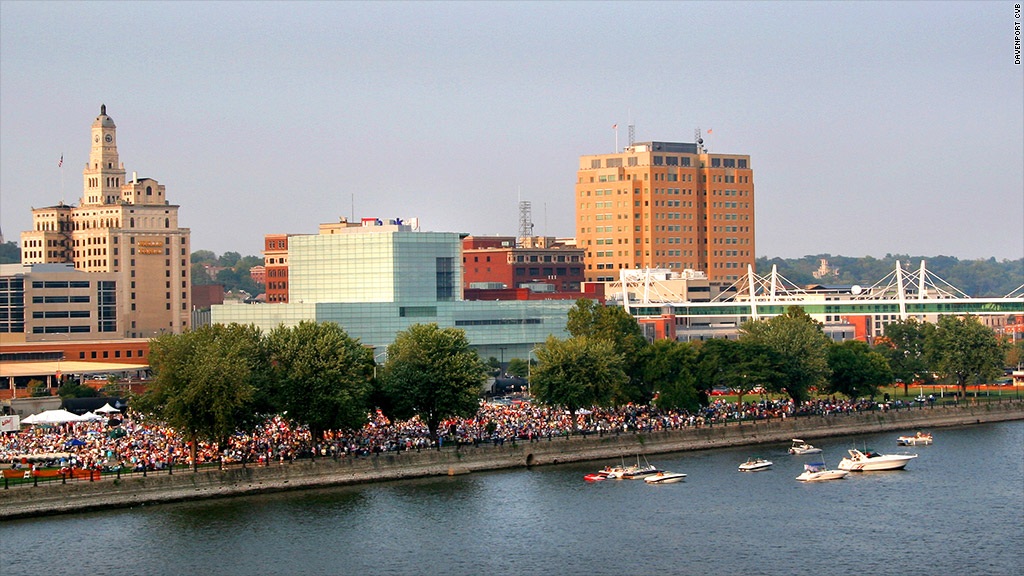 6
Population

: 382,630

Median home price

: $94,000

Median income

: $63,100

% of homes sold that are affordable*

: 92.5 %
Davenport, Iowa, is the largest of the Quad Cities metro area that straddles the Mississippi and includes Bettendorf, Iowa, and Rock Island and Moline in Illinois.
"The American Dream is palpable here," said City Administrator Craig Malin. "It's a Norman Rockwell life in a Grant Wood landscape."
This is the buckle of the Corn Belt and several manufacturers centered here, including John Deere, grew by building and selling harvesters, seeders and other heavy equipment to farmers. Deere has retained a solid grip on the market by expanding internationally, according to Susanne Knutsen, Davenport's economic development coordinator.
"[The company's success] has helped insulate us from rising and falling real estate prices," she said.
So has a diversification of the local economy with food processing and financial services growing more important.
Knutsen said all four Quad Cities are working to revitalize their downtowns and promote density. In Davenport, old central city plants and warehouses have been repurposed for housing with chic living lofts going into the spaces.
First published March 17, 2014: 1:33 PM ET
Source: National Association of Home Builders/Wells Fargo Housing Opportunity Index of 275 metropolitan areas. Population data is from Census Bureau.
*The Housing Opportunity Index is the percentage of new and existing homes sold that families earning the area's median family income could afford during the fourth quarter ended December 31, 2013. Prices of new and existing homes are based on figures from CoreLogic and mortgage data is based on rates reported by the Federal Housing Financing Agency.

Partner Offers
Paid Partner
Real Estate Calculator

Was my home a good investment?
Find out now
Personal Finance