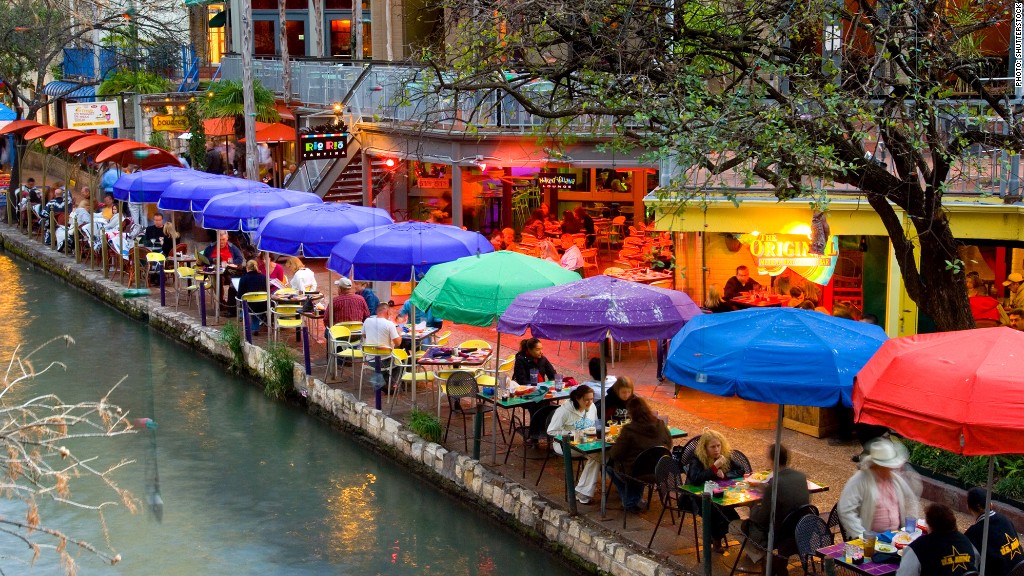 Population

: 2.3 million

% gain

: 1.9%

New residents

: 43,056
San Antonio's economy is still riding high thanks, in part, to the oil boom. Valero Energy (VLO), one of the nation's largest oil companies, is based here, as are a handful of other oil and energy services firms like Tesoro Corp (TSO). and NuStar Energy (NS).
The local economy, though, is still well diversified, with healthcare, tourism, financial services and call centers major sources of jobs. And Joint Base San Antonio, one of the largest military installations in the country, hosts 80,000 residents and trains some 130,000 military personnel a year.
Related: Buy vs. rent: What you'll pay in the 10 biggest cities
In January, the metro area unemployment rate was 5.4%, more than a percentage point below the national average.
San Antonio is also a young city, which is also helping to boost the local population, said Lloyd Potter of the Institute for Demographic and Socioeconomic Research University of Texas at San Antonio. "We have fewer deaths because we're young and more births as well," he said.
First published March 27, 2014: 12:25 AM ET
Source: Based on U.S. Census Bureau population data for July 1, 2012 through July 1, 2013. Rankings are based on largest percentage population growth in metro areas with a population of one million or more.

Partner Offers
Paid Partner
Real Estate Calculator

Was my home a good investment?
Find out now
Personal Finance