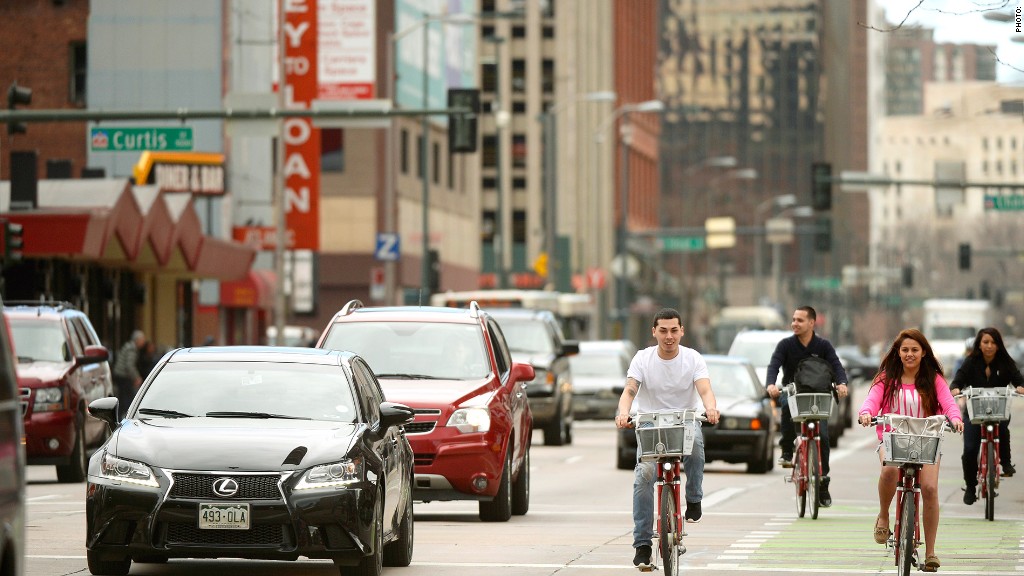 Population

: 2.7 million

% gain

: 1.9%

New residents

: 50,782
Great skiing, biking and hiking are just some of the reasons people flock to the Mile-High City.
"People see Colorado as a place for opportunity," said state demographer Elizabeth Garner. And when they arrive, it's not too hard to find one.
Area employment grew nearly 3% in 2013 thanks to hiring in sectors such as mining and energy, construction, professional and business services, and education and healthcare services, according to Denver's Metro Area Economic Development Corporation. Some of the area's biggest employers include Halliburton (HAL), Comcast (CCV)and CenturyLink (CTL).
And while unemployment is still just a few ticks lower than the national average, it's improving fast. In January, the unemployment rate fell to 6.4% from 7.8% the year before.
Home prices, at a median of $259,000, aren't exactly cheap, but they are affordable relative to median family income of nearly $78,000.
First published March 27, 2014: 12:25 AM ET
Source: Based on U.S. Census Bureau population data for July 1, 2012 through July 1, 2013. Rankings are based on largest percentage population growth in metro areas with a population of one million or more.

Partner Offers
Paid Partner
Real Estate Calculator

Was my home a good investment?
Find out now
Personal Finance