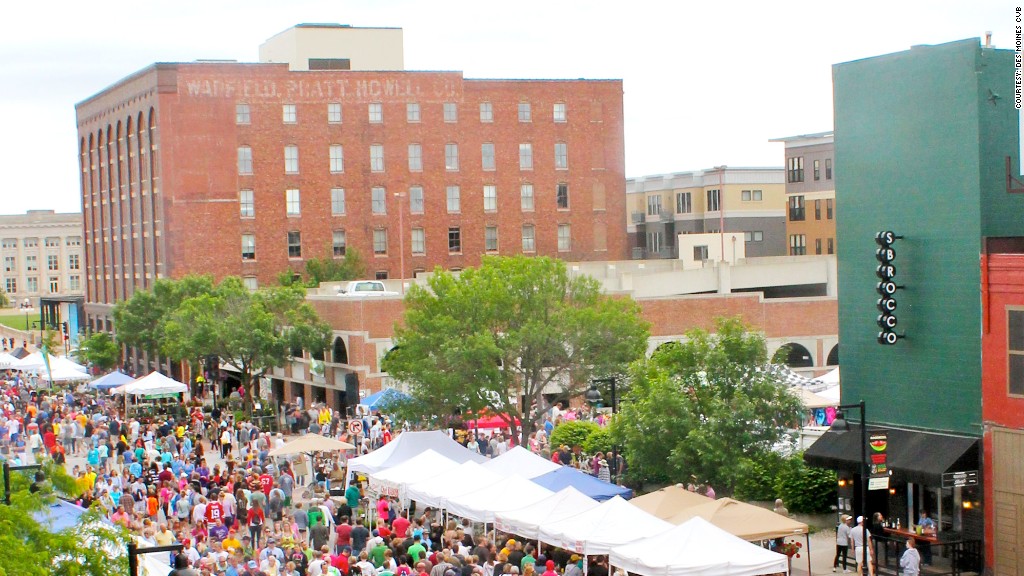 Median home price

: $153,000

Job growth

: 3%
Des Moines is going through a Renaissance.
"It used to be known as "Dead Des Moines," said Clyde Evans, director of community and economic development for West Des Moines. "Now there's always something going on."
A thriving startup scene has popped up in the area, with local incubators and organizations like StartupCity Des Moines, which provides co-working spaces, funding and other opportunities to young companies.
Related: Buy vs. rent: What you'll pay
More traditional jobs can be found here too, especially in the finance and insurance industry.
The area's low unemployment rate has attracted many Millennials, with 29% of new residents under the age of 35. That's compared to 23.5% nationally.
Homebuyers among this group find a wide choice of affordable homes. The median home price was just over $150,000 during the year's first three months.
First published June 23, 2015: 11:06 AM ET
Source: National Association of Realtors
Rankings were based on employment data, median home prices, home price growth and affordability, as well as the percentage of Millennials living in the metro area and their share of all age groups moving to the area. Median home prices data is for the first quarter of 2014, while job growth figures are for the 12 months through May 2014.

Partner Offers
Paid Partner
Real Estate Calculator

Was my home a good investment?
Find out now
Personal Finance