There's only one caviar girl in the world, and it's Mackenzie Jones, a 21-year-old aspiring singer, actor and dancer in New York City.
Like the cigarette girls of the 1920s, her job is to peddle her wares to the masses from a box strapped to her waist, but instead of hawking nicotine she hands out an entirely different vice: High-end caviar samples, washed down with a glass of vodka from her hip holster.
Jones says part of her job -- and her personal mission -- is to "demystify the delicacy" of caviar. She says she's responsible for hundreds of converts.
Though she serves "black gold" by night, by day she's focused on building her career as a performer and making ends meet.
Here are journal entries from a day in her life:
7:00 AM
Wake up for Bikram yoga and breakfast! I like to break a quick sweat at my neighborhood yoga studio and then head home for oatmeal with apples and cinnamon and peppermint tea.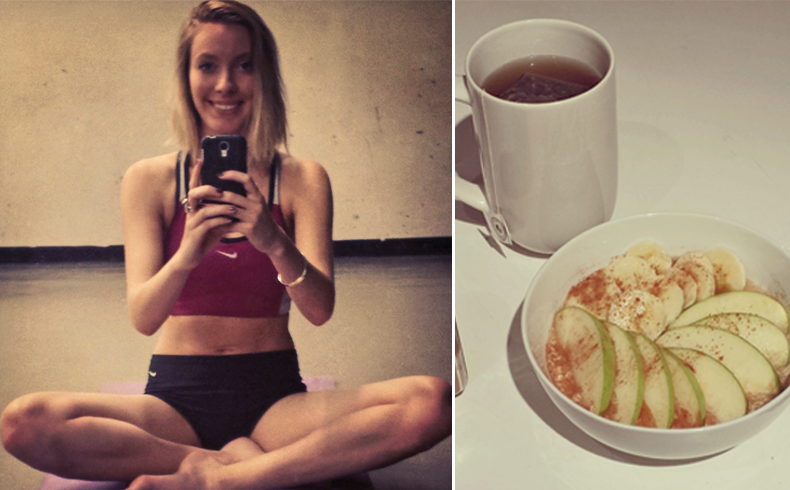 9:00 AM
I recently graduated from the Collaborative Arts Project 21 (CAP 21), a musical theatre conservatory, and I'm in rehearsals for the upcoming arts showcase. It's a great chance for all of us to display our talents and training to some of the biggest names in the New York City show business. After prepping for rehearsal, my bag is packed and I am ready to go.
10:00 AM
I grab the subway to the conservatory. I love to read on the train. Right now I'm reading "Half Broke Horses" by Jeannette Walls; it's amazing!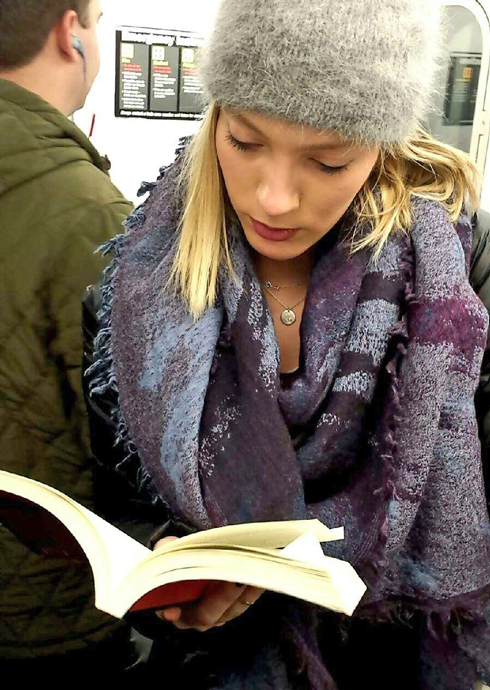 10:30 AM
We get to work rehearsing. My solo piece is "Nearness Of You" by Ned Washington and Hoagy Carmichael, but I'm also performing several ensemble pieces.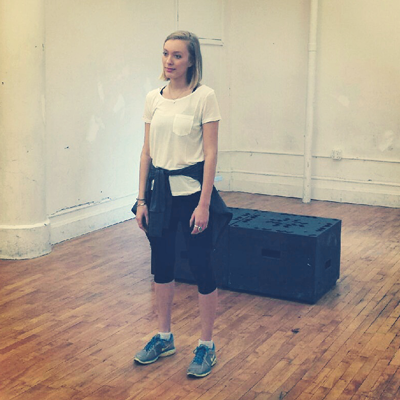 1:00 PM
Rehearsal is over and it's time to recharge at Liqueteria, a juice and smoothie bar. After two and a half hours of song and dance, I jump on the coffee and cacao protein smoothie and a snack.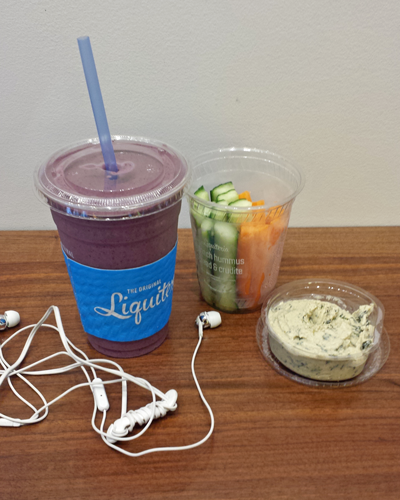 3:30 PM
Now my day switches gears to caviar girl, but I'm not allowed to tell you exactly where I'm headed. The Petrossian caviar company operates a top-secret "clean room" in New York City, where they taste and test the new vintages of caviar.
I had never experienced caviar before I came to New York, but now I'm being personally trained by the Petrossian family.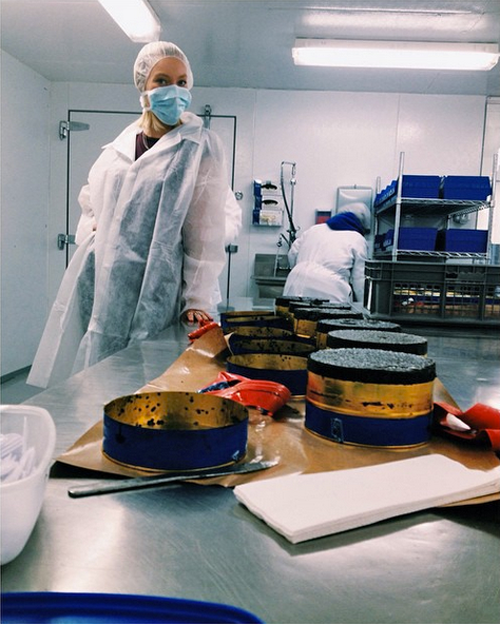 5:00 PM
Time to get into costume! The caviar girl outfit and tray were custom made, and the ensemble comes complete with an adorable Petrossian hat, serving tray with fine glassware and (my favorite) a hip holster for chilled vodka. It's the traditional way to enjoy caviar! I also get to have my hair and makeup done, which is always a ton of fun!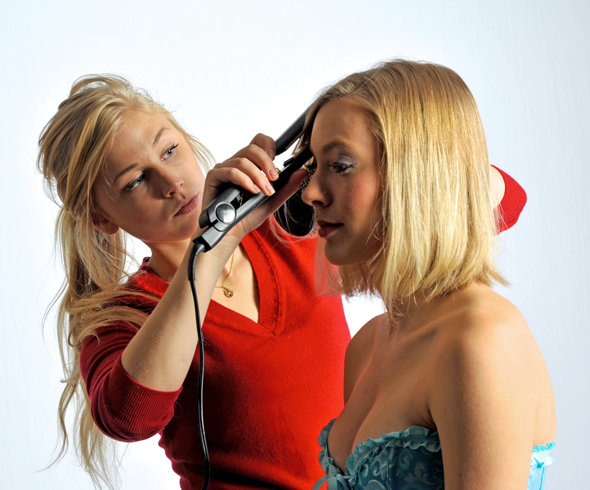 6:00 PM
The caviar girl is becoming very popular and we need new promotional photos, so it's off to the photo studio. We get some glamour shots before heading uptown to the Petrossian restaurant.
7:15 PM
I serve the world's finest caviar for a living, but I eat protein bars for dinner. On a day like today the cab ride is the only time I can grab a bite.
7:45 PM
Quick touch-up for my costume and makeup. Then we load up the tray, glasses and holster. Show time!
8:00 PM
This year is Petrossian's 30th anniversary in New York City and we've been hosting non-stop celebratory events at the Petrossian restaurant. It looks like I'm the life of the party, but trust me, everyone just wants to get at the caviar.
8:45 PM
We carry three varietals on the tray: Transmontanus, Petrossian Special Reserve and the crowd favorite, Ossetra. I spend most of the night pouring vodka and helping guests discover the right caviar for their palette. Not everyone needs my help, though.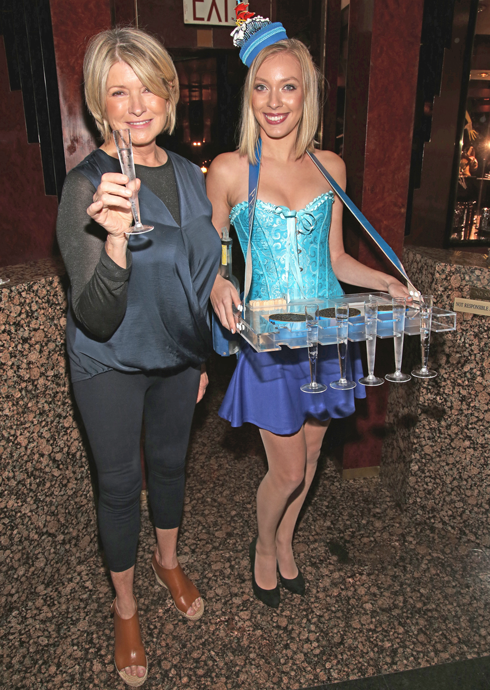 9:00 PM
I grab a short break after every hour on my feet. Wearing a tray of vodka and caviar makes me pretty popular and it's non-stop service when I'm out on the floor.
10:00 PM
The night is over and plenty of first-timers had been converted to caviar (I hope). Time to hop in the cab and head home.
10:30 PM
Before I hit the sack, I wash off the make-up, change out of the costume and catch a precious few minutes of reading or Netflix.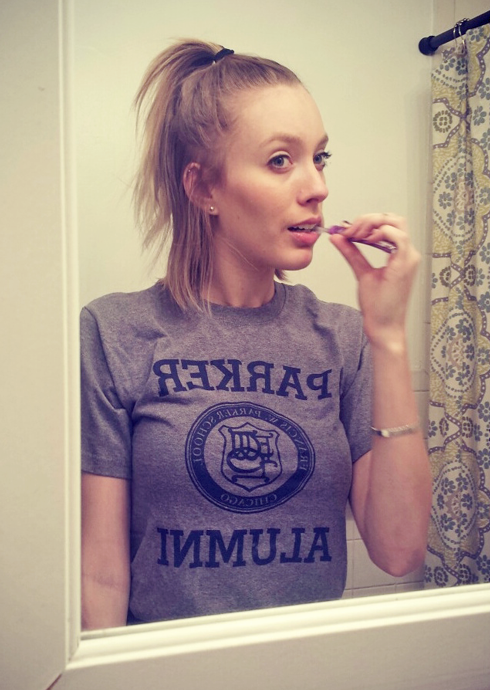 11:00 PM
I've got an audition in the morning, so it's lights out by 11:00. Not that I needed any motivation to pass out.