100 of 100
CH2M HILL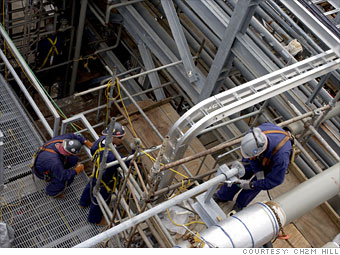 100
Rank
: 100
Previous rank
: N.A.
2011 revenue ($ millions)
: $5,555
What makes it so great?
Lee McIntire, CEO of the civil engineering and construction firm, not only tweets but also posts his own personal development plan on the company's intranet.
Headquarters:
Englewood, CO
Website: www.ch2mhill.com
Employees
Employees outside U.S.
6,072
Jobs
Job openings
(as of 1/2/13)
529
Most common job (salaried):
Engineer
$93,358
Most common job (hourly):
General Maintenance Technician
$57,038
Fully paid sabbaticals
No
Health
100% health-care coverage
No
Onsite fitness center
Yes
Subsidized gym membership
No
Diversity
Has nondiscrimination policy
that includes sexual orientation?
Yes
Offers domestic partner benefits
for same-sex couples?
Yes
Professional training
Salaried employees (hrs./yr.):
N.A.
Hourly employees (hrs./yr.):
11
From the Feb. 4, 2013 issue