11 of 100
Qualcomm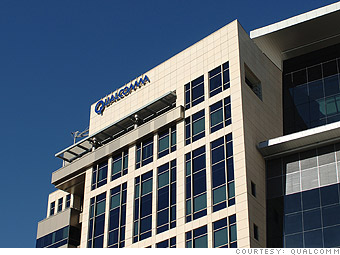 11
Rank
: 11
Previous rank
: 23
2011 revenue ($ millions)
: $14,957
What makes it so great?
Employees at the wireless-technology company are encouraged to share ideas at an annual in-house tech conference. In 2012 engineers submitted nearly 200 papers, the winners of which were asked to present at the forum and participate in speaking events.
Headquarters:
San Diego, CA
Website: www.qualcomm.com
Employees
Employees outside U.S.
8,675
Jobs
% job growth (1 year)
18%
Job openings
(as of 1/2/13)
1,000
Most common job (salaried):
Engineer, Staff
$145,416
Most common job (hourly):
IT Engineer, Senior
$98,446
Fully paid sabbaticals
No
Health
100% health-care coverage
Yes
Onsite fitness center
Yes
Subsidized gym membership
Yes
Diversity
Has nondiscrimination policy
that includes sexual orientation?
Yes
Offers domestic partner benefits
for same-sex couples?
Yes
Professional training
Salaried employees (hrs./yr.):
30
Hourly employees (hrs./yr.):
24
From the Feb. 4, 2013 issue