20 of 100
Millennium: The Takeda Oncology Company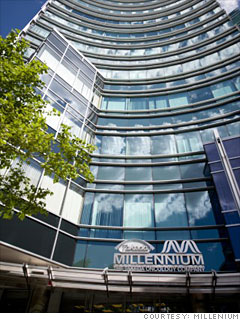 20
Rank
: 20
Previous rank
: 35
2011 revenue ($ millions)
: N.A.
What makes it so great?
Employees are motivated by this drugmaker's singular vision: to cure cancer. New hires get three weeks of vacation plus three weeks of holidays (including a week off between Christmas and New Year's Day) and have a no-limit honor system for sick time.
Headquarters:
Cambridge, MA
Website: www.millennium.com
Jobs
Job openings
(as of 1/2/13)
40
Most common job (salaried):
N.A.
N.A.
Most common job (hourly):
N.A.
N.A.
Fully paid sabbaticals
No
Health
100% health-care coverage
No
Subsidized gym membership
Yes
Diversity
Has nondiscrimination policy
that includes sexual orientation?
Yes
Offers domestic partner benefits
for same-sex couples?
Yes
Professional training
Salaried employees (hrs./yr.):
45
Hourly employees (hrs./yr.):
From the Feb. 4, 2013 issue