25 of 100
Plante & Moran, PLLC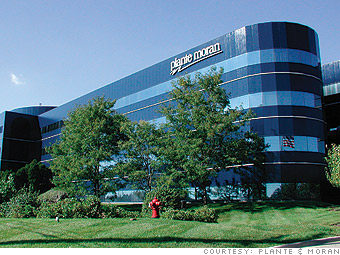 25
Rank
: 25
Previous rank
: 37
2011 revenue ($ millions)
: $331
What makes it so great?
"We're relatively jerk free" is a motto that goes back to Frank Moran, co-founder of this public accounting firm. In 2011 managing partner Gordon Krater announced via voicemail a floating holiday to be used during the busy months of December and January.
Headquarters:
Southfield, MI
Website: www.plantemoran.com
Network with Plante & Moran
Jobs
Job openings
(as of 1/2/13)
90
Most common job (salaried):
Audit Staff
$75,800
Most common job (hourly):
Administrative Assistant
$46,990
Fully paid sabbaticals
Yes
Health
100% health-care coverage
No
Subsidized gym membership
Yes
Diversity
Has nondiscrimination policy
that includes sexual orientation?
Yes
Offers domestic partner benefits
for same-sex couples?
Yes
Professional training
Salaried employees (hrs./yr.):
64
Hourly employees (hrs./yr.):
32
From the Feb. 4, 2013 issue