33 of 100
Perkins Coie LLP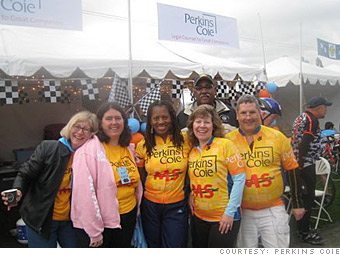 33
Rank
: 33
Previous rank
: 58
2011 revenue ($ millions)
: $547
What makes it so great?
To mark its 100th birthday, the Seattle-based law firm doled out $10,000 to committees in each of its 16 local offices and let them decide where to donate the money. The firm offers a two-month paid sabbatical after 10 years of service.
Headquarters:
Seatte, WA
Website: www.perkinscoie.com
Network with Perkins Coie
Employees
Employees outside U.S.
14
Jobs
Job openings
(as of 1/2/13)
30
Most common job (salaried):
Associate
$208,725
Most common job (hourly):
Legal Secretary
$68,021
Fully paid sabbaticals
Yes
Health
100% health-care coverage
Yes
Onsite fitness center
Yes
Subsidized gym membership
No
Diversity
Has nondiscrimination policy
that includes sexual orientation?
Yes
Offers domestic partner benefits
for same-sex couples?
Yes
Professional training
Salaried employees (hrs./yr.):
50
Hourly employees (hrs./yr.):
60
From the Feb. 4, 2013 issue