38 of 100
NuStar Energy L.P.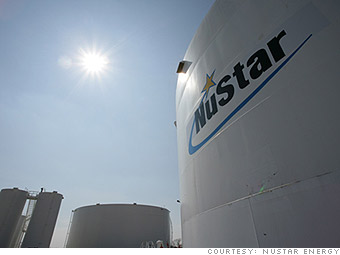 38
Rank
: 38
Previous rank
: 15
2011 revenue ($ millions)
: $6,575
What makes it so great?
"Safety is given priority over profits," says one employee at this pipeline operator and asphalt and fuel refinery. Executives hosted a series of employee barbecues last year to celebrate three years in a row with zero time lost to injuries.
Headquarters:
San Antonio, TX
Website: www.nustarenergy.com
Network with NuStar Energy
Employees
Employees outside U.S.
427
Jobs
% job growth (1 year)
-1%
Job openings
(as of 1/2/13)
27
Most common job (salaried):
Terminal Manager
$97,797
Most common job (hourly):
Senior Terminal Operator
$82,831
Fully paid sabbaticals
No
Health
100% health-care coverage
Yes
Subsidized gym membership
Yes
Diversity
Has nondiscrimination policy
that includes sexual orientation?
Yes
Offers domestic partner benefits
for same-sex couples?
Yes
Professional training
Salaried employees (hrs./yr.):
198
Hourly employees (hrs./yr.):
243
From the Feb. 4, 2013 issue