4 of 100
The Boston Consulting Group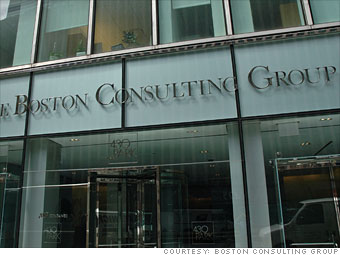 4
Rank
: 4
Previous rank
: 2
2011 revenue ($ millions)
: $3,550
What makes it so great?
The elite management consulting firm maintains work-life balance by issuing a "red zone report" to flag when individuals are working too many long weeks. New consultants can delay their start date by six months and receive $10,000 to volunteer at a nonprofit.
Headquarters:
Boston, MA
Website: www.bcg.com
Network with Boston Consulting
Employees
Employees outside U.S.
6,300
Jobs
% job growth (1 year)
19%
Job openings
(as of 1/2/13)
1,000
Most common job (salaried):
Consultant
N.A.
Most common job (hourly):
Executive Assistant
N.A.
Fully paid sabbaticals
Yes
Health
100% health-care coverage
Yes
Subsidized gym membership
No
Diversity
Has nondiscrimination policy
that includes sexual orientation?
Yes
Offers domestic partner benefits
for same-sex couples?
Yes
Professional training
Salaried employees (hrs./yr.):
100
Hourly employees (hrs./yr.):
40
From the Feb. 4, 2013 issue