6 of 100
NetApp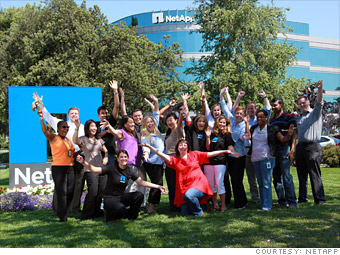 6
Rank
: 6
Previous rank
: 6
2011 revenue ($ millions)
: $6,233
What makes it so great?
Employees at the data storage company often get a chance to receive special recognition. Vice chairman Tom Mendoza asks managers to notify him when they "catch someone doing something right," and then calls 10 to 20 employees every day to thank them.
Headquarters:
Sunnyvale, CA
Website: www.netapp.com
Employees
Employees outside U.S.
4,723
Jobs
Job openings
(as of 1/2/13)
973
Most common job (salaried):
Member of Technical Staff Software 4
$134,209
Most common job (hourly):
N.A.
N.A.
Fully paid sabbaticals
No
Health
100% health-care coverage
No
Onsite fitness center
Yes
Subsidized gym membership
No
Diversity
Has nondiscrimination policy
that includes sexual orientation?
Yes
Offers domestic partner benefits
for same-sex couples?
Yes
Professional training
Salaried employees (hrs./yr.):
57
Hourly employees (hrs./yr.):
57
From the Feb. 4, 2013 issue