61 of 100
Stryker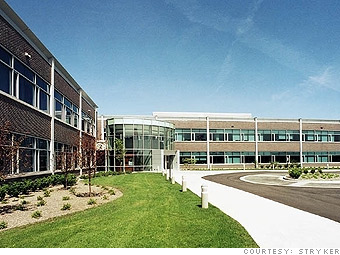 61
Rank
: 61
Previous rank
: 80
2011 revenue ($ millions)
: $8,307
What makes it so great?
The medical-device manufacturer keeps things light by offering Ping-Pong tables on-site and having "pie-your-manager"competitions.
Headquarters:
Kalamazoo, MI
Website: www.stryker.com
Employees
Employees outside U.S.
8,919
Jobs
Job openings
(as of 1/2/13)
N.A.
Most common job (salaried):
Recon Sales Associate
$74,600
Most common job (hourly):
Endoscopic Specialist
$43,759
Fully paid sabbaticals
No
Health
100% health-care coverage
No
Onsite fitness center
Yes
Subsidized gym membership
No
Diversity
Has nondiscrimination policy
that includes sexual orientation?
Yes
Offers domestic partner benefits
for same-sex couples?
Yes
Professional training
Salaried employees (hrs./yr.):
110
Hourly employees (hrs./yr.):
130
From the Feb. 4, 2013 issue