72 of 100
EOG Resources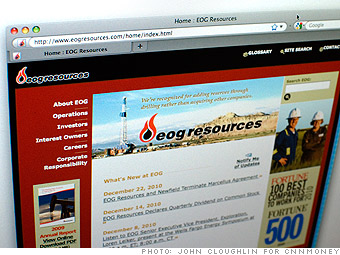 72
Rank
: 72
Previous rank
: 72
2011 revenue ($ millions)
: $10,126
What makes it so great?
The oil and gas driller shares its growing wealth with employees, who are all stockholders. In the past 10 years, the stock price has shot up 500%, to $120.
Headquarters:
Houston, TX
Website: www.eogresources.com
Network with EOG Resources
Employees
Employees outside U.S.
270
Jobs
Job openings
(as of 1/2/13)
70
Most common job (salaried):
Engineer
$172,655
Most common job (hourly):
Lease Operator
$70,140
Fully paid sabbaticals
No
Health
100% health-care coverage
Yes
Onsite fitness center
Yes
Subsidized gym membership
Yes
Diversity
Has nondiscrimination policy
that includes sexual orientation?
Yes
Offers domestic partner benefits
for same-sex couples?
Yes
Professional training
Salaried employees (hrs./yr.):
40
Hourly employees (hrs./yr.):
40
From the Feb. 4, 2013 issue